Educating yourself while setting off on a new journey is important. Similarly, it's necessary to know the dos and don't of hajj and Umrah. This sacred journey demands a few things that you need to have with you. we have collected some checklist items that will add ease in your journey of hajj and Umrah.
TRAVEL ESSENTIAL:
1- Passport and visa documentation
The first and the foremost item while traveling abroad is the passport. You need to keep it along with other visa documentation.
2- Proof of vaccination
All pilgrims from all over the world needed to have their vaccination cards with them.
3- Cash & credit cards
Take a sufficient amount of money to cover your expenses. Take a minimum amount of Riyal with you which can help you with your immediate expenses upon your arrival.
4- Photocopies of your documents
Make multiple photocopies of your documents and leave some of them at the hotel while stepping outside, so you can have them as a backup if you lost one.
PRAYER:
5- Prayer mate
It's necessary to keep a prayer mate. It can be used outside Haram.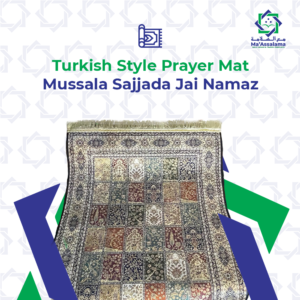 6
6- Pocket Quran & dua books
Copies of the Quran will be available in the Mosque. You need them to go anywhere else, so you can resume reading when you are not in the mosque. Dua books contain multiple supplications which were read by Hazrat Muhammad (PBUH). You read them throughout your journey.
7- Tasbeeh or digital counter
Tasbeeh or digital counter will help you to remember the numbering of your supplications. They are convenient.
8- SUITCASE
You need to buy a suitcase. If you don't like hard suitcases, you can opt for all in 1 travel bag. As it has a high capacity to keep all your needed items safe. It is a light weighted bag that is easy to carry. Don't forget to keep locks and their keys.
9- A bag pack
if you want to get yourself treated with some me-time by doing shopping after completing your hajj or Umrah. It is necessary to keep a back & side bag with you. you can also wear it during praying.
10- Waist pouch/ihram belt
Take a waist pouch or anti-theft ihram belt to place your Mobile, Id card, money, and passport.it also has a secured concealed zipper and secure zip stopper with an anti-cut feature to guarantee the security of your important items.
11- Shoe bag/ string bag
While entering Haramain you can take off your shoes and put them inside your shoes and a prayer mate bag to avoid losing them. You can also carry your stone pouch in it with some extra stones so you can give them to others in case they dropped or forgotten theirs so you can get the reward. It also has space for your umbrella, water bottle, and Tasbeeh.
CLOTHING & ACCESSORIES:
12- Take seasonal clothes
Before leaving for hajj and Umrah it will be good if you check weather updates of upcoming days and pack seasonal loose-fitting clothes.
13- Pack more than 1 ihram
It will be good if you carry two ihrams in your complete ihram kit. In case of any emergency, you will need another one to save your time of buying a new one urgently. Also, take safety pins with you as they will be needed to fasten the ihram.
14- wear comfortable clothes
wear comfortable clothes and shoes as it's going to be a lot of walking. Take padded socks or slippers to avoid discomfort while walking on a hard floor. Vaseline is another must have item for your feet.
15- Shoes, Bathroom slippers & sandals
Take some decent waterproof slippers along with some comfy sandals. You also need a pair of shoes and socks for walking.
HYGIENE:
16- Health care kit
A Health care kit is a must as you're going to stay for a few days. You can include Some basic medications such as cold and flu relief medications, travel sickness tablets, painkillers, and plasters. You can carry other health care items e.g hand sanitizer, handwash, face mask, toothpaste, toothbrush, etc
17- Shampoo, soap, and towels.
Not all hotels provide towels so you can keep your own Hajj & umrah ihram towel along with a soap bar and a fragrance-free bottle of shampoo.
ELECTRONICS:
18- Cell phones & Saudi sim card
To keep in touch with your family, friends, and members of the group, it is important to keep your phone & charger with you. It is important to buy a Saudi sim card to make international calls. You can easily find a Saudi sim card at any local phone shop.
19- Power bank
Power bank will be needed to charge your devices when you are away from hotel. Carry a multiple-input power bank so you can charge more than one device.
20- Headphones
If you want to listen to the Quran while traveling, you may carry a headphone set.
OTHER ITEMS
Blanket, bedsheet, head neck pillow, pebble bag, sleeping bag