Pilgrims often overlook the managerial aspect of Hajj and Umrah. The house of God receives guests from all over the world. If pilgrims don't handle the management aspects, they may get caught in unwanted problems.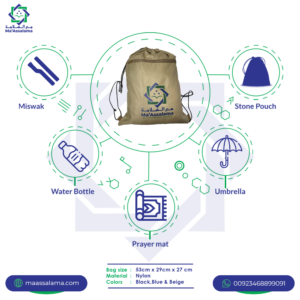 For instance, your shoes may get lost amidst the thousands of shoes of other hajjis. When everyone's in a rush to catch the prayers, they may end up losing their sandals. This is just one of the many managerial situations that may occur.
Hajjis end up losing their precious time in managing such menial stuff. With our bags, your precious belongings are secure at all times. You can keep all the necessities like a prayer mat, umbrella and miswak in there to perform all the rituals properly.
Our prayer bag offers enough space for hajis to keep stones inside.
Our bags are also water-resistant which means rain will not spoil the goods inside the bag. The bags are available in black, blue and beige colour so you can choose the color that suits you the best.
You can buy a prayer bag online at the best rates from us. We offer the best quality of prayer bag in Pakistan.