Umrah and Hajj are auspicious occasions for Muslims around the globe. Those who are planning the journey should be sufficiently prepared. Our side bag will be the perfect partner for their journey. We've designed a special side bag for Umrah, which will make the pilgrimage easy for the blessed souls.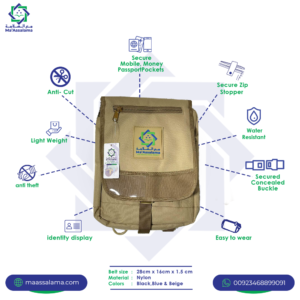 Our bags have adjustable straps to provide maximum comfort. They have secured buckles so you don't lose your precious items. The bags are lightweight and easy to carry so they don't become a hassle for your blessed journey.
The bag's material is waterproof so your stuff isn't damaged by sudden rain or any water-related mishaps. The material used is anti-cut which means no one can cut the bag and steal what's inside.
If you are going for Hajj or if your loved one is going then our side bag for hajj will be perfect. The bag has six compactly designed pockets. So you can keep necessities like snacks and water, and never get tired or dehydrated. After all, you should take care of the essentials so you can reap the most benefits at Allah's house!