Maassalama anti theft ihram belt is the most needed item while going for Hajj/Umrah. there are a lot of places where you need cash. that is why it is necessary to wear an anti theft ihram belt. it also helps you to divide your finances between your wallet (everyday expenses) and overall trip money.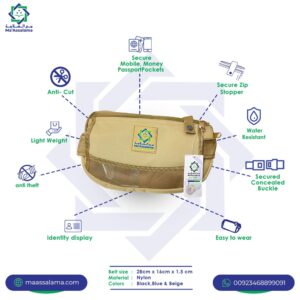 It is not just a normal belt, it is a unique product specially designed for pilgrims. It can secure your valuable belonging in it. Its material is water resistant so you don't need to worry about walking in rain during hajj/umrah. It is easy to wear. It can be worn around the waist or diagonally across the shoulder.
Massaalama's anti theft belt has an anti-cut feature.
It has six pockets which are specifically designed to keep mobile phone, credit cards, id card and money. It has an advanced feature that is called a secure zipper stopper it will help to prevent thieves from simply pulling the zip across. It has a securely hidden buckle which makes access to it difficult for random thieves.
Masaalama back & side pag is a perfect choice and it can be a perfect partner during your journey of Hajj/Umrah.