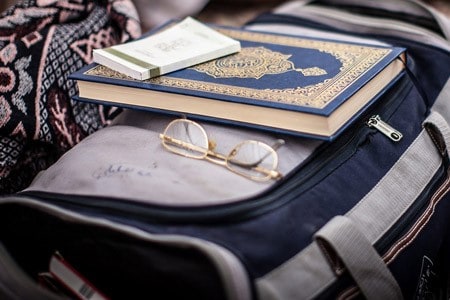 Among the most important spiritual pilgrimages for Muslims worldwide are the Hajj and Umrah. These annual pilgrimages, which are carried out by millions of Muslims, require careful planning and preparation, including the choice of suitable Hajj Umrah luggage. When selecting the ideal Hajj Umrah bag from the many options on the market, it is important to take certain considerations into account. We will go over some of the key features to consider while purchasing Hajj Umrah backpacks for pilgrims in this article.
1- Size and Volume
When selecting a Hajj Umrah bag, the size and capacity should be taken into account first. The bag should have enough room for all the pilgrimage essentials, including the Ihram, prayer rug, footwear, water bottle, and personal hygiene items. But, the bag shouldn't be so big that it's difficult to carry while on the pilgrimage.
2- Quality and Durability
The Hajj and Umrah require a lot of walking and exertion, therefore picking a strong, high-quality bag is essential. The bag must to be made from durable materials that can withstand wear and tear while travelling. To avoid tearing or breaking, the straps, handles, and zippers must also be of high quality.
3- Convenience and comfort
Comfort and convenience are important aspects while purchasing a Hajj Umrah luggage. The bag should be simple to carry and have relaxed shoulder straps that do not hurt the shoulders or put undue stress on the spine. Also, it must to have a sufficient number of pockets and sections to keep everything separated and simple to find.
4- Security
Pilgrims are particularly vulnerable to theft and pickpocketing during the Hajj and Umrah since they are frequently in crowded places. To keep priceless valuables safe and secure, it is crucial to buy a bag with appropriate security measures, including locks or hidden pockets.
5- Designs and fashion
The design and appearance of the bag should also be taken into account, even if utility is the most important factor to take into account. The pilgrim's unique style and preferences should be reflected in the bag's aesthetic appeal. Also, it must follow to all pilgrimage laws and customs, including the Ihram's color and pattern.
Maassalama has the best travel bags for you
You must be searching for a travel bag that can hold all of your necessities and is both sturdy and durable if you are going to take this journey. If that's the case, you may stop worrying since Maassalama has got you covered.
Maassalama is an expert in producing all-in-one, premium travel bags for the Hajj and Umrah. These bags are made to meet the demands of pilgrims who want a roomy, practical bag that will make their journey hassle-free.
The Maassalama travel bags are made from premium, long-lasting materials. They are built to last, which makes them perfect for the steep hills of Hajj and Umrah. The large size of the bags makes it easy for you to carry all of your necessities.
Let's examine the characteristics of the top travel bags which Maassalama offers.
Features of Maassalama All-in-1 Travel Bag for Hajj & Umrah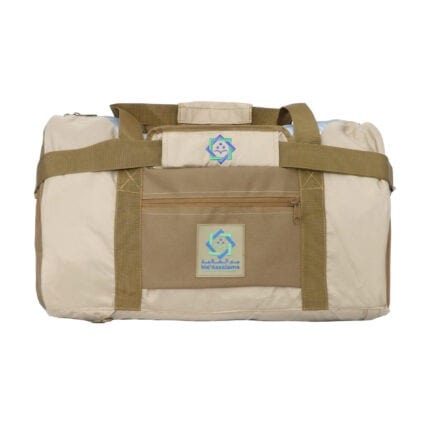 Maassalama All-in-One Travel Pack for the Hajj and Umrah claims to be the best bag for portability. We'll examine this travel bag's characteristics in more detail in this post to see why pilgrims should choose it.
1- Material Resistant to Water:
The water-resistant material of the Maassalama All in One Travel Bag is one of its most significant qualities. This is an essential component of a travel bag since it guarantees that all of your stuff will be kept dry and safe in the event of rain or other bad weather. High-quality, waterproof nylon fabric that is strong and long-lasting is used to create the bag.
2- Many Pockets:
This travel bag has multiple compartments, which is another fantastic feature. Together with a large main compartment, it also contains numerous smaller pockets and sections for storing all of your necessities. This makes it simple to maintain everything in its proper position and locate what you need right away.
3- Convertible Design:
The Maassalama All-in-One Travel Bag features a special convertible design that enables it to be used as both a backpack and a shoulder bag. For pilgrims who must carry their baggage for long periods of time, this feature is amazing because it enables them to alternate between various carrying styles and lessens fatigue.
4- Comfortable and Ergonomic Design:
The Maassalama All-in-One Travel Bag boasts a comfortable and flexible shape that makes it simple to carry even over extended periods of time. Its back panel and padded shoulder straps help properly distribute weight, easing strain on the back and shoulders.
Why to choose Maassalama All in 1 Travel Bag for Hajj & Umrah?
This bag stands out from the competition because to its numerous features. First of all, you can carry it in a variety of ways depending on your convenience, including as a purse, a shoulder bag, or a backpack. This is especially useful if you have to climb stairs or move through crowds. The Maassalama All-in-One Travel Bag's dedicated shoe and used clothing pockets are among its most significant features. This eliminates the need to bring your soiled clothes and shoes along with your clean ones. Also, the pockets are made to arrange your goods so that you can easily find what you need without having to dig through your entire bag.
The side functions of this bag are another unique quality. The bag has a rod for loading up additional luggage, so you can easily attach it to your luggage cart and drag it along with your other bags. This is especially useful if you have a long distance to travel. Also, the bag is foldable, making it simple to store it when not in use. This is beneficial if you're traveling light or have a little amount of storage space. Additionally, the Maassalama All-in-One Travel Bag has great capacity, so it can hold all of your items without being bulky or heavy. This is especially useful if you have to carry it about for an extended amount of time.
The cost-effectiveness of the Maassalama All-in-One Travel Bag is another element that sets it apart. It is inexpensive when compared to other travel bags on the market, which makes it an attractive option for many pilgrims.